Contract Management Automation (CMA) Solutions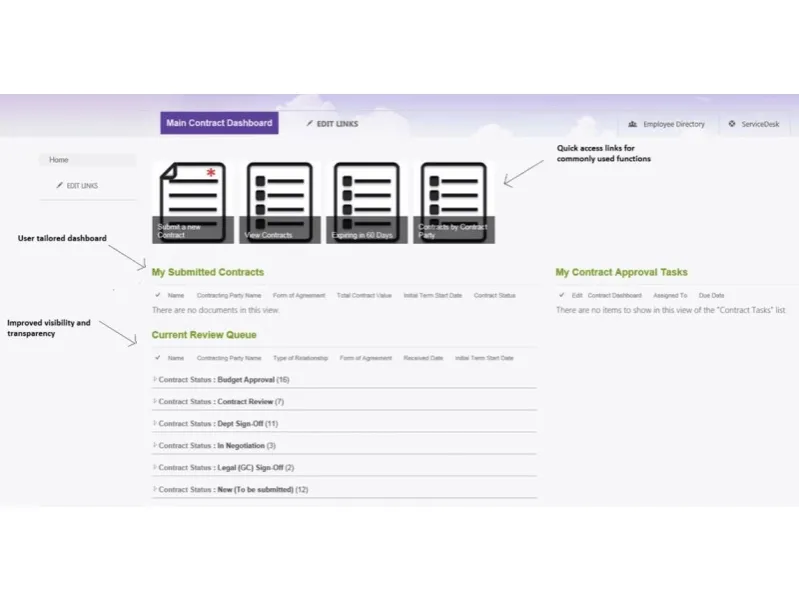 Better Manage the Contract Lifecycle
Every business has contracts. Most still rely on manual and paper-based methods to create, edit, and track contract execution and then struggle with searching and retrieving contracts when needed. Contract management solutions enables companies to automate essential processes to better management the contract lifecycle and satisfy auditing requirements.
Get Started Today
Intellinet's CMA will help you manage your contracts.

Key Benefits
Personalized Dashboard
Portal-style design identifies users and presents relevant data (tasks, contracts, actions, etc.)
e-Approval Process
Standardized for consistent operations
Automated routing and tracking throughout all stages of the contract lifecycle
Template driven best practices
Improved transparency, accountability, and process awareness through all stages
Bottlenecks identification and ability continuously refine process
Email notifications & reminders to drive process
Tracking & logging provides comprehensive audit trails
Collaborative Communication & Mobile Experience
Utilizing Microsoft Yammer
Contextual conversations that drive quicker business decisions
User centric design promotes team collaboration resulting in faster processing times
Minimize or eliminate disparate email conversations from the business decision process
Comprehensive Oversight of Entire Contract Lifecycle
Predefined and custom reporting for all contracts at any stage of the process
Real-time, comprehensive contract portfolio status
Custom Reporting Capability
Report against any data in the system
Empower users to create their own reports
Secure Document Management
Manage multiple documents per contract with document-level version control
Enable multiple people to collaborate and markup a document at the same time (co-authoring)
Find Contracts Quickly
With enterprise search technology
Search refinement- narrow your search results with one click
User Friendly
Requires minimal training.
Customizable
Intellinet's CMA solution is fully customizeable with a design tailored to fit your company's brand.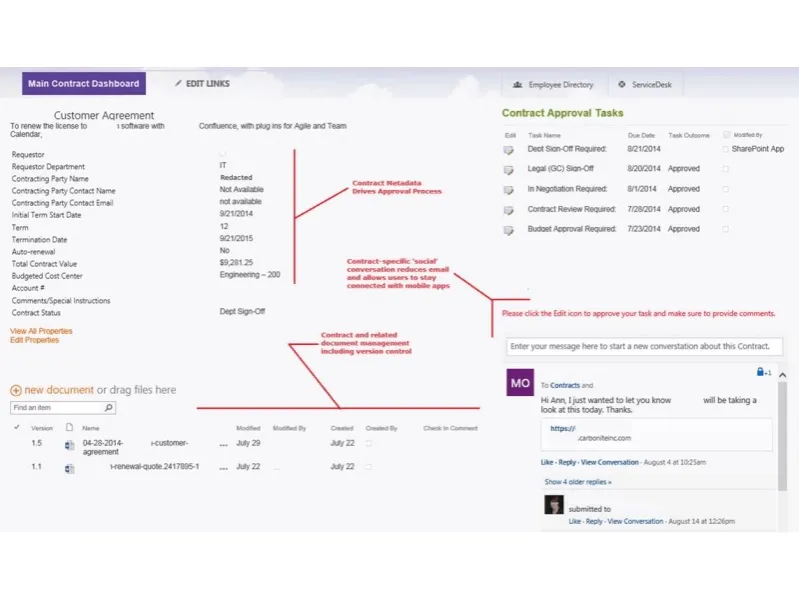 Intellinet's CMA solution introduces a new way to manage your contracts
Built on top of Microsoft SharePoint and utilizing Nintex workflows, our custom CMA solutions are a highly collaborative approach to contract lifecycle management. By automating the process from submission and review to final approval and renewal, the CMA system provides the structure your contract data' needs to fulfill the oversight, reporting, security, and auditing requirements of any organization. In addition, our unique implementation of Yammer (Microsoft's enterprise social computing platform) integrates 'Contract Feeds' into your contract management process, breaking down communication barriers and providing a whole new way to collaborate.
I have tried my share of off-the-shelf products with little success. As our contracts at Carbonite have reached an all-time high, and the need for mining data about those contracts is increasingly important, we needed to solve this problem quickly, efficiently and well. So, instead of continuing to vet separate products/platforms and dealing with the additional cost as well as support, we partnered with [Intellinet], a local Microsoft Partner, to design and implement a custom solution in SharePoint. The result is that we have been processing all contracts as well as back-entering contracts for almost 6 months now and are extremely pleased with the results (and our auditors are pleased as well).
Danielle Sheer
VP, GC of Carbonite